Packing Tips and Tricks

After completing the paperwork and requirements necessary to secure your place on your program, packing is often the next highest cause of anxiety. It can be intimidating thinking of all the objects or clothes you'll need in various situations, but we can't stress packing light enough. It is very possible to pack your suitcase half-full and still have items that you'll never use. Below you'll find a general packing list and some tips to help you determine what items make the cut.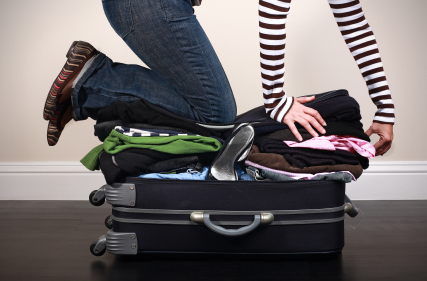 PACKING LIST
Note: Your program may have their own suggested packing list.

Clothes
-Shoes (3 pair: walking, nice, and flip flops)
-Shirts (short- and long-sleeved)
-Sweatshirt/Fleece
-Shorts/Pants/Jeans/Skirts
-Underwear
-Socks
-Swim suit
-Pajamas
-Work-out clothes
-Jacket
Note: Be mindful of typical as well as extreme weather patterns of your away location.

Toiletries
-Travel-sized shampoo, conditioner, soap, toothpaste, and deoderant.
-Contact lens solution (only liquid worth bringing full-sized).
-Hairbrush
-Toothbrush
-Washcloth

Electronics
-Computer
-MP3 Player
-Camera
-Phone (optional)
-Extra batteries

Other
-Eyeglasses, sunglasses, and contacts
-Prescriptions
-Earplugs
-Book
-Gift for your host family
-Copies of important documents and contact information.
-Cash, debit, and/or credit cards (traveler's checks are not recommended).

Worth Its Weight in Gold
-Plastic bags (great for wet swim suits and separating dirty clothes from clean).
-Electrical adapter/converter (sold in most travel or electronic sections of department stores).
-Small book of favorite recipes (with common conversions written on a separate page).
-Instant meals for the first day (oatmeal packets, granola bars)
-Water bottle
-Tissues
-Umbrella
-Wristwatch

What NOT to Pack
-Valuables
-Anything you would be distraught over losing or breaking.
-Small electronics like alarm radios, hair dryers (bulky, may need a different outlet plug, and are typically inexpensive to purchase).
-Items you can easily purchase after arrival.
-Clothing/shoes you think you might wear. You won't. Pack the tried and true stuff you know you will use. When in doubt, leave it out.
-More than two weeks of clothing. More than this is overkill.
-Clothing that blatantly acknowleges you are not from that location.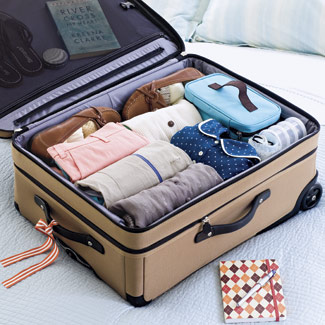 HOW TO PACK

Carry On Luggage
-Things to entertain you on journey.
-Avoid packing liquids. Must only be 3oz. and in a resealable plastic bag.
-Prescriptions
-Electronics

Checked Luggage
-Put all liquids in plastic bags to prevent leaking onto other packed items.
-Use bulkier items (sweatshirts, jeans) to line the inside of the bag. It will cushion the more delicate items in the middle.
-Pack an extra, durable, empty bag or suitcase inside if possible. International mail is expensive. You can use it to check another bag if necessary on your return flight.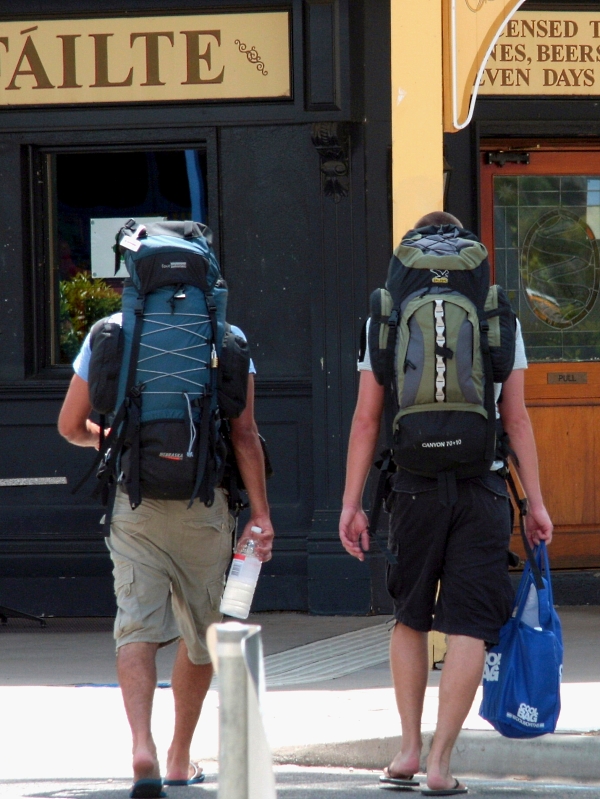 HELPFUL TRICKS

Too Heavy?
-Ditch the extra shoes. Ones with thick soles should be the first to go.
-Only bring 1 or 2 pair of jeans.
-Wear your heaviest shoes and clothing on the plane.
-Liquids are heavy. Invest in the 3oz. bottles and buy full-sized products after you arrive.
-Paper weight adds up. Buy notebooks and other paper materials after arrival.
Note: Can't read your luggage's weight on the bathroom scale? Weigh yourself, then grab a friend to read your weight while holding the luggage. Subtract to find the weight of your luggage.

Not Enough Space?
-Roll instead of fold your clothing.
-Put underwear and socks inside shoes.
-Tie a jacket or bulky sweatshirt around your waist through the airport. It's one more thing to hang onto and take off at security, but it opens up a lot of space.
-Pack 3oz. hygiene products and buy full-sized after you arrive.
-Pick one base color for your clothing, brown or black. The outcome is a fully functioning wardrobe with less clothes and shoes.
-Throw away or donate items that are not desired before returning home.
Note: If your bag is truely bursting at the seams, ask yourself if a busted luggage zipper in the airport or leaving a few things at home would be the more uncomfortable situation.